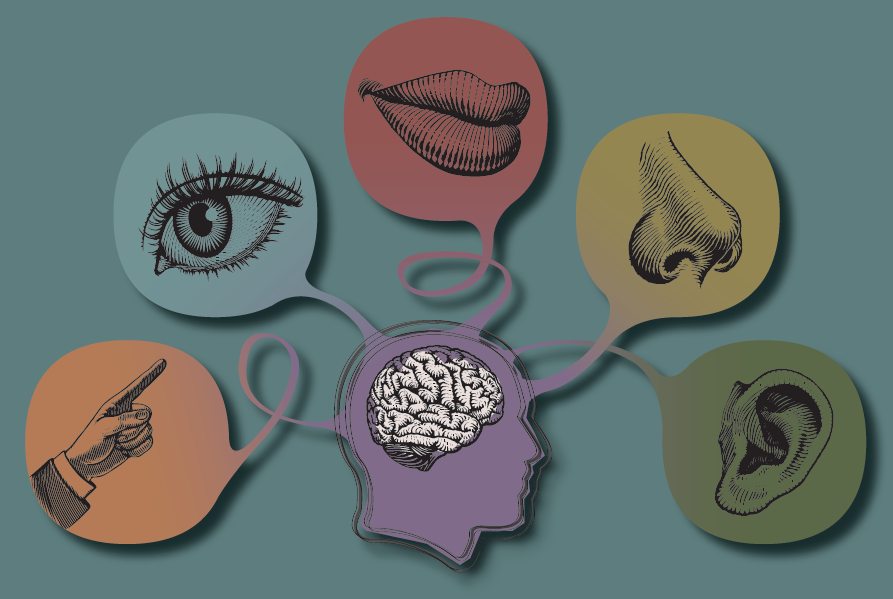 No matter how your audience is exposed to your company, the more senses you engage, the more memorable your impression will be. Consider the film and entertainment industry that long ago left 2D behind and has now branched into a "5D" experience, utilizing not only vision and sound, but motion, smell, and sometimes even taste to ensure that viewers come back again and again. Why put in all that effort? To make a lasting impression, of course!
Love at first sight
Humans are visual animals. We've evolved to have a preference for certain images and to avoid others. High quality graphic design not only takes note of these habits, but also uses them to your best advantage. Maintaining a consistent branding message and theme are extremely important to engage your audience. If you want people to be able to pick your logo out of a crowd of other logos, make sure the image is recognizable to them, and connected to a positive experience. Helping your clients to remember your name is half the battle, and visually based marketing is likely to be your first chance to introduce your brand, and the message behind it, to a new audience.
Get your hands on it. 
There's a reason museums have velvet ropes. People absolutely love to touch things. While this doesn't work well in museums, when it comes to products, a positive "touch" experience can be the first step towards a later purchase. If you sell products you'll generally have a selection of physical "touchable" samples to allow clients to experience the product, but what about those of us who sell services—or a digital or otherwise intangible product?
That's where promotional marketing comes in. 
Branded fidget spinners, stress balls, Frisbees, and tabletop puzzles are all ways to get your "untouchable" product into the hands of potential customers.
Want to take it up a notch?
At your next expo, try utilizing some large format touch screens! Modern technology can draw people in and let them engage with your story and interact with your company, leaving a lasting impression! Whether you're in a corporate lobby, boardroom, showroom, or road show, customized touch screen experiences are definitely something to consider when you want to be SURE people remember your brand.
Can you hear me now?
Music has the unique ability of taking people back in time. People's memories often have a musical component. For example, what song was playing during your first kiss?
While people hear noise almost every minute of the day, as a marketer you have the power to control the particular noise they hear as they engage with your brand.
Make sure that when customers interact with your brand, your staff is prepared. Have them trained to utilize specific verbiage and catch phrases. If music is involved in the experience, ensure that it compliments your brand, instead of drowning it out. Think carefully about your audience, and how you can use an audible experience to shape and support their memory of your brand, and to ensure that it's a good one!
That smells just like…
I know, it's weird, but do you know what sense triggers memory even better than hearing? The sense of smell. Think about the way certain smells will take you back to your childhood in an instant. They're forever bound to specific memories, and every time you catch a certain scent in the air, you're right back to being a kid. This phenomenon can also be used for marketing. Now, you may be thinking "but I don't sell perfumes, or cookies, or anything else that smells amazing!" That's fine! You can STILL utilize the sense of smell to market your brand. Companies like scentair.com can work with you to create a specific scent JUST for your brand. Spritzing a bit on your shipments, or ensuring that all of your display booths—or even sales staff—utilize a scent can be another great advantage for your marketing strategy.
Delicious marketing!
Clearly, you can't (and likely wouldn't want people) to lick your software, furniture, or designer clothing. But you can still utilize the sense of taste for your marketing needs! Use giveaways like candy, coffee, wine, beer, or whatever else goes with your brand's style, at live events to attract customers and help them to remember you, and your brand. Adding verbiage such as "think these are sweet? Wait until you install our latest update!" or "Our winter collection is here! Warm up with some hot tea!" helps to create the association.
We do it all. 
The best way to gain attention for your brand and stand out from the crowd is to utilize creative, yet strategic, branded marketing experiences for your clients. Each interaction you have with your clients—be it face to face or over the web—should utilize as much of a total sensory experience as possible. Watson Productions has the unique ability to help you create and execute an all encompassing sensory experience that will ensure that you not only stand out from the competition, but that your clients have a lasting and positive impression of your product or service.
Social Share